Welcome to
Bravo Inn Greensboro
Delve into history and architecture when you visit Greensboro, North Carolina, and stay with us at Bravo Inn. As the third-largest city in North Carolina, this destination is steeped in history and marked with monuments to the fallen and battlefields. In addition, it is home to one of the top water parks in America, a mouth-watering mix of taco joints and museums galore. You are sure to have fun in this city, especially when you stay at Bravo Inn, a top Greensboro hotel.
Located at 2600 Preddy Blvd, the Bravo Inn is the best place to stay in Greensboro! We offer guest rooms with modern amenities, including cable flat-screen TVs, high-speed WiFi, and air-temperature controls. Do you know what's even better? Our property offers free parking and a friendly around-the-clock front desk. Whether you're traveling for work or pleasure, our hotel in Greensboro, NC, will suit your needs at an exceptional price.
Our ideally located hotel is nestled in the heart of Greensboro, nearby restaurants, shops, cafes, bars, and more! There is much to do and see in Greensboro. Don't worry! We're within proximity to top sites and attractions, including the Weatherspoon Art Museum, Greensboro Science Center, Tanger Family Bicentennial Garden, Greensboro Children's Museum, and Guilford Courthouse National Military Park. How will you spend your days in Greensboro?
ACCOMMODATIONS
CLEAN, COMFORTABLE, AND AFFORDABLE HOTEL ACCOMMODATIONS IN GREENSBORO, NORTH CAROLINA
You can experience luxury living at affordable rates. Our spacious guest rooms are elegantly designed and made to feel the maximum level of comfort. Your room will be loaded with amenities like air-conditioners, coffee/tea maker, flatscreen TV, Whirlpool bathtub, and much more. Additionally, Bravo Inn Greensboro is one of the best pet-friendly hotels in Greensboro, NC.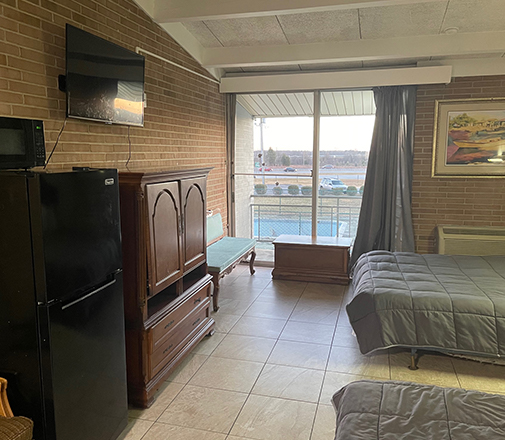 Reviews
Good time with family
"We had such a nice time staying at this hotel. It is conveniently located close to Wet n' Wild and the Coliseum. The rooms were spacious and clean. They have a lot of parking space which is really good. We loved it here, and we will definitely be back again."
~ David
Great experience
"I had a great birthday weekend with some of my closest friends. The front desk staff were so accommodating to our group and gave us great advice on what to do. The room was spotless. The value for money was superb."
~ Sandy
ADDRESS:
2600 Preddy Blvd, Greensboro, North Carolina, USA 27407